My senses are tingling, my spirits revived, and my mind at ease. It's amazing what a short weekend of good food, pampering, and countless hours of chit chat with amazing friends (both new and old) can do for your mind and body. The actual trip to Boston was, eventful, to say the least - but once that, tiny, little, 39 seater airplane landed safely and I laid eyes on two welcoming friends coming my way, it was all forgotten, and I was truly relaxed. It was just what I needed, before the hustle and bustle of moving and having a baby commences.
The peaceful view from our hotel room was just what I needed. We watched the rowers several times during our visit, gliding effortlessly down the river.
And the bed? Oh, it was heaven. Was it comfy? I didn't notice..what I noticed was that there was no one else in it! Now, don't get me wrong. I LOVE co-sleeping. But, sharing a double bed with a restless, kicking toddler, and a 6 foot tall, bed hog of a husband can be a challenge some nights. (Good thing we just ordered our new king size bed for the new house!) So, I soaked up every minute of serenity in that empty bed, and I took up every inch like it was nobody's business. Bliss.
Imagine my hearts content when I took a long, hot bath (with no little fingers sticking hot wheels under the door, or snack requests being shouted at me, as I'm trying to maneuver around my giant belly to shave my calves - not an easy task these days...requires a little peace, and concentration!), woke from my solo slumber, answered the door to coffee, fruit and pastries (thanks to room service) and took my time getting dressed for a day at the spa with some of my best friends. Don't you feel relaxed just
thinking
about that!?
Believe me, it was just as heavenly as it sounds. We lounged around in plush robes, had our feet rubbed, toes painted in fun shades like "purple with a purpose", hands massaged and beautified, and lastly, the best part of the whole day - had an hour long prenatal massage, with the best gay masseuse
ever
.
That's how we do it in Boston.
I've never been to NYC, so to me, Boston was a big, exciting city full of energy and life. The taxi drivers were crazy, the shopping was great, the culture was buzzing, and the food was divine.
We enjoyed Spanish tapas, cheesecake, Starbucks, and the super fun experience of The Meting Pot (everyone needs to do this at least once in their lifetime).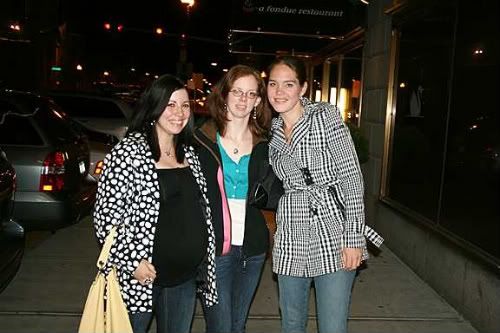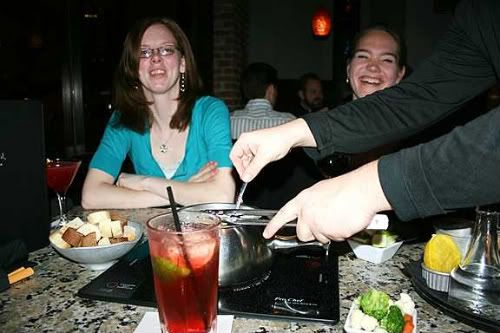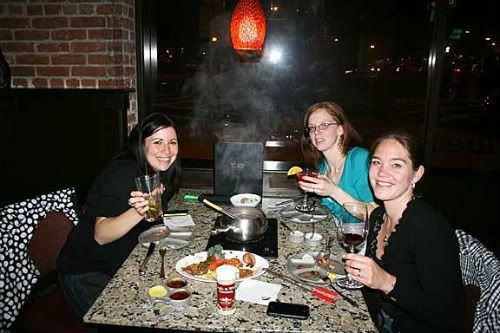 The weekend was short and fabulous, and we were all glad to get home to our littles. This was my first ever weekend away from Jaxson, and I missed him like crazy. He told me all about his adventures with Daddy though, and was clearly happy, clean and healthy when I got home - so it looks like it was a success!
This will be my last getaway for another 2 years now, I'm sure, so I'm very glad we did it and I look forward to the next one - maybe the real NYC next time ;-)