I've been feeling uninspired. At a loss for words, and no energy to come up with anything. This week marked the beginning of the last quarter of my pregnancy. 30 weeks down, 10 (or so) to go. The woes and wears of the third trimester have definitely hit hard, and I'm finding it hard to just slow down and accept it. I keep pushing myself to do more, and stay awake longer, but in reality, I should be embracing the stillness of these last weeks, and preparing for the arrival of our baby girl. For the sleepless nights, the newborn cries, and the days of discomfort following the monumental act of giving birth. It's okay to be tired, and it's okay to throw in the towel for a few days if I need to, and stop trying to keep the house sparkling. As long as the kids are fed, happy, and tucked safely away in their beds at night, it's okay to rest. And so rest I do, tonight, as the babes are sleeping, and Trevor is gone out with the boys.
**********
My desk is scattered with an empty water cup, a bottle of children's tylenol, various candy wrappers, some pencils, some flyer's from different furniture stores, and my visa. The floor is littered with toys, and a diaper I have yet to throw out, and the sink still holds the dirty dishes from dinner time. But I'm going to leave it. I'm tired, and ready to fall asleep anytime now, and just not going to worry about it. Embracing the third tri, baby.
Amidst the pure and utter exhaustion, though, I do find small windows of energy and excitement to prepare for our move! 5 weeks and 6 days to go! Today, we packed the first 10 boxes or so, We also ordered 7 new appliances, and a new King sized mattress set....*swoon*. We've been smooshed into a double for far too long, and that extra 16 inches of cloud-like space, sounds like heaven!
I'm also preparing for a girls weekend in Boston coming up at the end of the week, with 2 of my very best "online friends". One I met for the first time about 3 years ago, (and many more times since then) and have considered her one of my very closest friends ever since, and the other is an amazing, long-time internet friend, who we are both meeting for the firs time! I couldn't be more excited! It will be mama's first night(s) away from Mr. Jaxson, and I am going to miss him like crazy, but this is the only opportunity I will have for another couple of years, so I am taking it! We have lots of fun and pampering planned, and the weekend promises to be a time of personal restoration, and building of new friendships.
The third tri aches and discomforts have had me feeling a little down, so I've treated myself to a few nice novelties that I don't always indulge in. New shoes. Not the heels I normally go for, but a pretty pair of rain boots I have been lusting over for months, to brighten the days of puddle splashing with the kidlets.
New make-up...it's been a while since I've treated myself to the best, and it just feels SO good.
Breakfast
playdates
with new and old friends. Of course, I snapped a pic before everyone arrived, but once there were 7 kids running around, and demanding pancakes and yogurt parfaits, I forgot to pick my camera up again.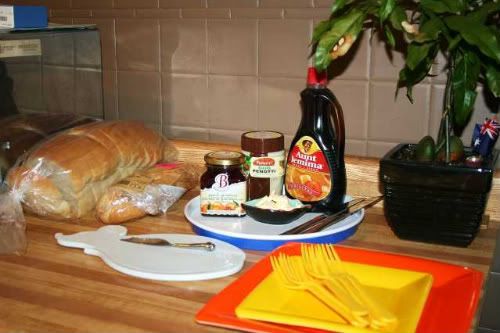 Footbaths
, a good movie, and popcorn.
Judging by the chill in the air this evening, and the glum, grey skies, you would never guess that our week was full of spring promise. We played in the backyard, riding bikes, and zipping down slides, until we couldn't hold off bedtime any longer. (And we have the tell-tale bumps and bruises to prove it)
And, we celebrated the first outdoor meal of the season.
My poor little guy though is not ending his week so happily. We've had 2 sleepless nights now, of painful screams and cries at random intervals throughout the night. He's also running on low fuel, with no appetite for 2 days now. It *could* all be chalked up to those nasty 2 year molars he's been dealing with, but this mama is guessing we may have another ear infection on board. So, if tonight proves to be just as bad, we will be heading the the clinic tomorrow to have it checked out. Why is it that these things always happen on the weekend?!