Remind me what month we are in? April, you say? Oh, so it is
actually
Easter and not Halloween?! Because, judging by the amount of candy I have hidden away, high upon a shelf in my broom closet, where little hands can't retrieve it, you would think it was Halloween all over again! Good grief - it's almost ridiculous. Someone remind me, next year, that I don't actually need to buy my kids treats, because the rest of my overly-generous (sometimes
too
generous) family will shower them with more sugar than they know what to do with! We really are truly blessed to have such generous people in our lives, who care so deeply about our kids...but clearly, they value our kids happiness more than they value our own sanity. (Really, guys, we love you - thank you. Now, come over and eat some candy with us! After the kids are in bed, of course.)
We spent the entire weekend celebrating Easter and spring and all the good things this time of year brings, in some way or another. It was busy, and hectic, and just the way I like it!
Decorating eggs - messy as all heck, but totally worth it! The little dude had a blast...he also had a tantrum, when the fun was over. Note to self : Next year, boil 4 dozen eggs to keep little hands busy for hours.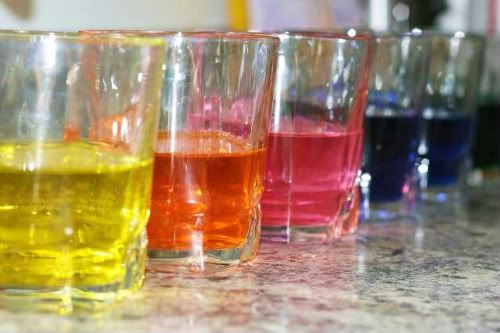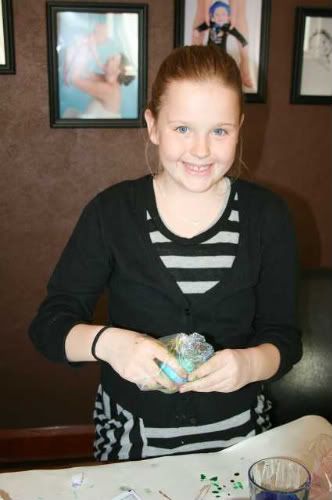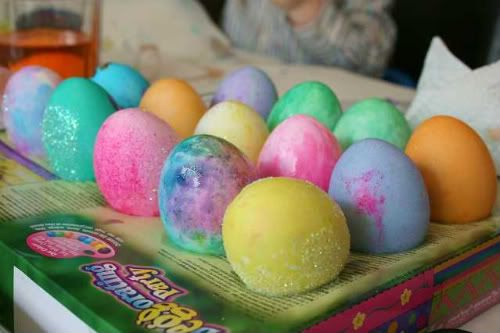 Enjoying our sunny Saturday afternoon at the local carnival - hours of entertainment simply observing the many kinds of people there, but also loads of fun for the kids!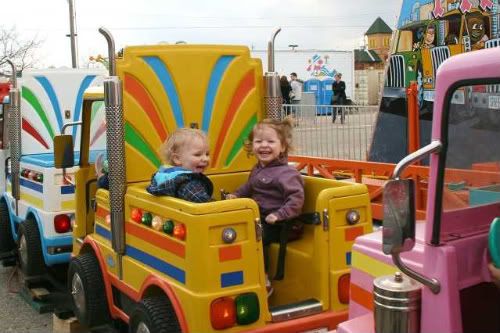 (My very big, brave boy on his very first ride! I was so convinced we would not go on...but, look at him go!)
The highly anticipated egg hunt - the highlight of the weekend. Kids woke up to baskets full of toys and surprises on their beds (seriously, I've never seen Jaxson wake up SO fast...I swear he spotted it before his eyes were even open!), which they got to play with while mommy and daddy made much needed coffee.
The look on Jaxson's face was priceless, when he realized there were colorful eggs hiding all over the house, filled with "Treaties" - it definitely made staying up until midnight, hiding and stuffing, 100% worth it. Cheyna may be getting a little old for the egg hunt, but she missed out on a lot of life's little novelties, so we're making up for lost time.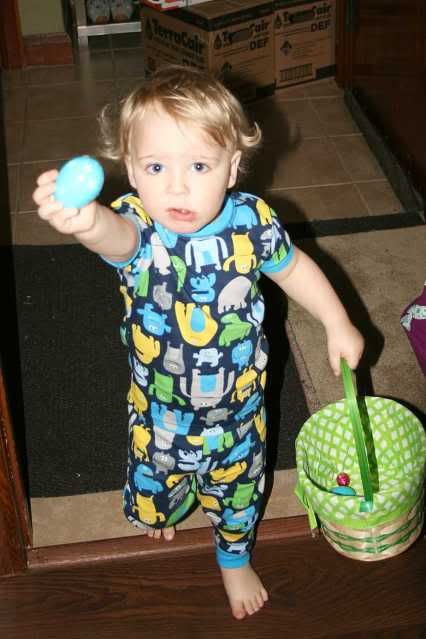 (You'll notice that "baby" didn't leave his side for much of the hunt. We can only hope he'll love his little sister as much as he loves his babies :)

Dinner for 16 at our house - yep, I'm 31 weeks pregnant and overly ambitious. But to be honest, nothing makes me happier than having a house full of people we love! I love the laughter in the air, the smell of good food cooking in the kitchen, and the celebration of life as kids are being snuggled and adults are cozied up enjoying great company. I was exhausted, but it was well worth it. Likely, the last dinner party in our little house.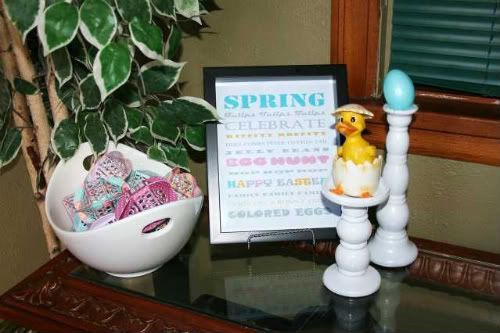 (Candle holders from the dollar store, spray painted white, some easter/spring word art made on the computer, and 3D paper eggs made with my Silhouette.)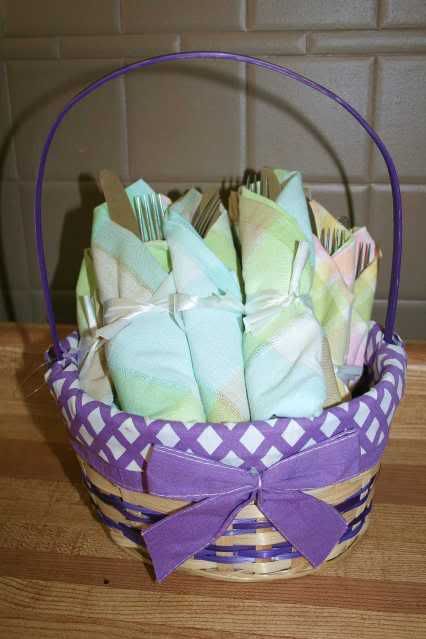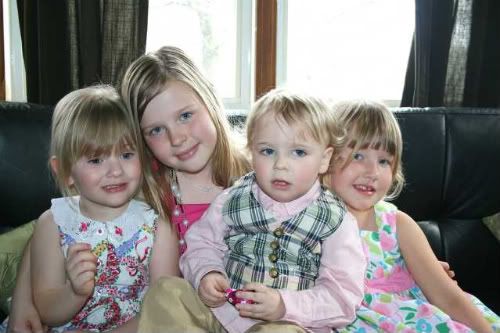 Secret projects - I taught Cheyna how to use my Silhouette :) We had made chocoloate/PB "nests" with chocolate eggs in them, and then using my Silhouette she made individual baskets for each nest. She spent hours working on them, and made 16 - one to send home with every guest <3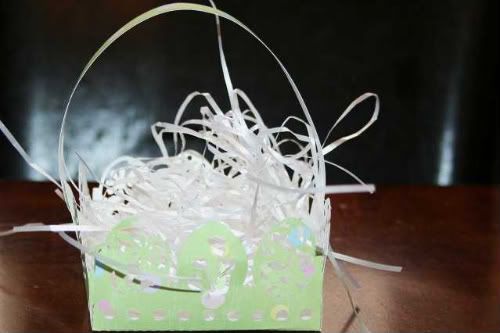 I think it's safe to say that a great weekend was had by all! Now that the hussle and bustle of the holiday is over, it's time for me to prepare for my girls' weekend in Boston, and get PACKING for the big move!
I hope your Easter was as blessed as ours.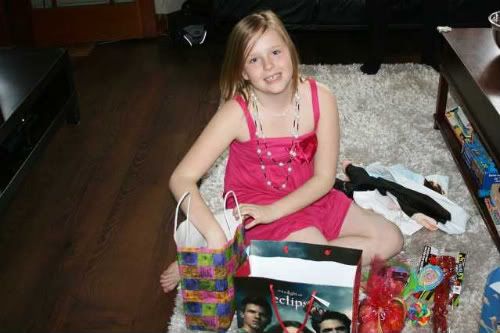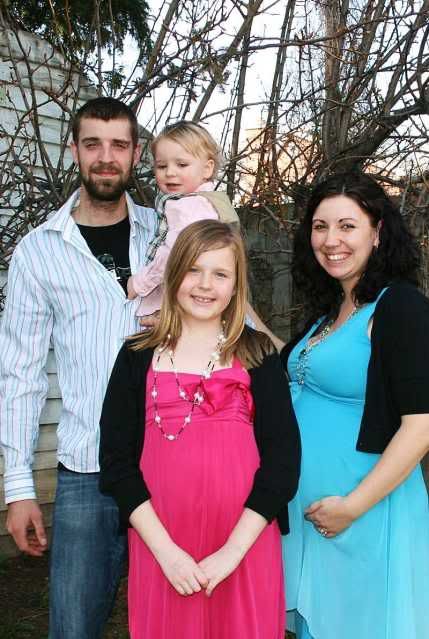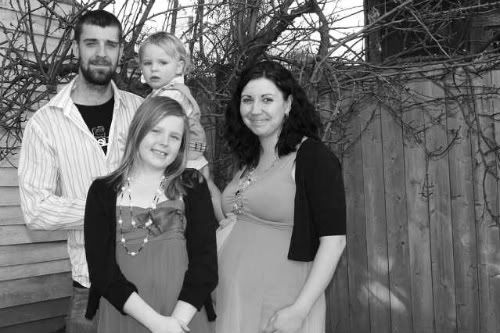 "Rejoice with your family, in the beautiful land of life"
-Albert Einstein